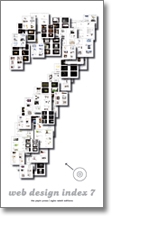 I was browsing through a local Barnes & Noble tonight and found a great book on web design: Web Design Index 7.
At first I thought it was some book for web design beginners, but I couldn't be more wrong. It's a wonderful book full of screenshots of some very cool web site designs. It seems like a perfect book to inspire your work when designing a completely new site or application.
The publisher, The Pepin Press, has more editions of this book, and I'm sure I'll buy some more after I go through this one.